An Artist of the Floating World
Author

Kazuo Ishiguro

Year of publication

1986

When I read it

November 2020

What I thought

Possibly my favorite Ishiguro so far (tied with The Remains of the Day)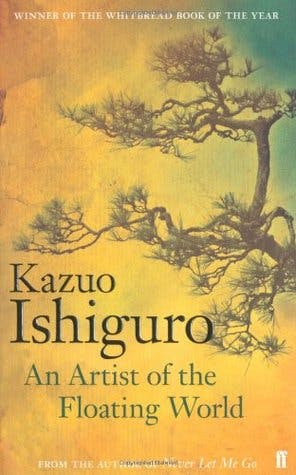 Choice Highlights
Retirement places more time on your hands. Indeed, it is one of the enjoyments of retirement that you are able to drift through the day at your own pace, easy in the knowledge that you have put hard work and achievement behind you.
… one could get drunk there with pride and dignity.
The Saitos are, all in all, a very different sort of prospect from the Miyakes of last year. The Miyakes were, of course, decent enough people, but they could not, in all fairness, be called a family of any prestige, whereas the Saito family, without exaggeration, is just that. In fact, although Dr Saito and I were not properly acquainted before, I had always known of his activities in the world of the arts, and for years, whenever we had passed in the street, we had exchanged greetings politely to acknowledge our familiarity with each other's reputations.
Towards the latter part of the afternoon, I felt it would be prudent to try and lighten Noriko's mood somewhat, and this was the impulse behind my remarking to her as she passed through the dining room where I was sat reading: 'It's astonishing, Noriko, how you can spend the whole day doing nothing but preparing your appearance. You'd think this was the marriage ceremony itself.'
Ichiro came running towards me, his arms outstretched as though to anticipate an embrace. But then as he reached me, he appeared to check himself, and fixing a solemn expression on his face, held out his hand to be shaken. 'Good day,' he said, in a businesslike manner. 'Well, Ichiro, you're indeed growing into a man. How old are you now?' 'I believe I'm eight. Please come this way, Oji. I have a few things to discuss with you.'
After receiving the news of Matsuda's death late yesterday morning, I made myself a light lunch, then went out for a little exercise.