The Remains of the Day
Author

Kazuo Ishiguro

Year of publication

1989

When I read it

September 2020

What I thought

One of my favorites of 2020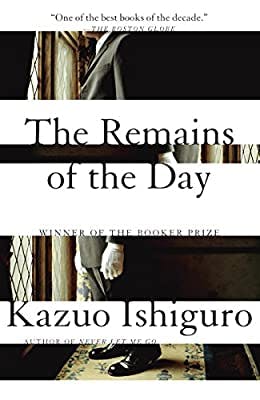 Choice Highlights
Embarrassing as those moments were for me, I would not wish to imply that I in any way blame Mr Farraday, who is in no sense an unkind person; he was, I am sure, merely enjoying the sort of bantering which in the United States, no doubt, is a sign of a good, friendly understanding between employer and employee, indulged in as a kind of affectionate sport.
… as I went about my business, I would often catch various American exclamations of delight coming from whichever part of the house they had arrived at.
The landlord led me up a timber stairway to a small room, rather bare, but perfectly decent. When he inquired whether I had dined, I asked him to serve me with a sandwich in my room, which proved a perfectly satisfactory option as far as supper was concerned.
For the first twenty or so minutes, I would say we exchanged the sort of remarks strangers might.